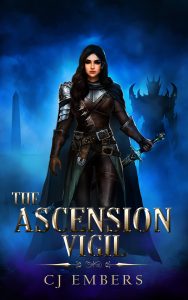 I was wrong. The remnant wasn't gone. It had only been in hiding, and now, everything I bled for is at risk.
With the consequences of Kena's actions laid bare before her and the truth of her attempt at the Trial haunting her, she struggles to continue leading Karua. As the shadows of her recent past threatens to corrupt her once more, she must learn how to coexist with the memories of her god and his soul-shattering absence.
When unrest amongst her people continues to grow, Kena is forced to question everything, including herself… and her own life. Amidst wondering if her country would be better off without her, a new threat looms, cracking Karua to its core.
With the country in peril and Kena's darkness chasing after her with every step, she fights to keep everything together while desperately wishing for one thing— for Helis to rescind his verdict and return to her.
* * *
Paperback and eBook
Pages: 355
Genre(s): Fantasy (NA)
Audience: Older teens and up
Price: $15 USD (PB)* / $6 USD (EB)
* Plus shipping

Free through Kindle Unlimited.