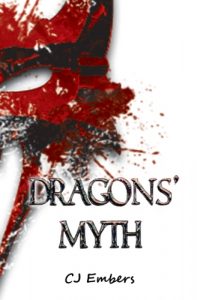 When eighteen-year-old Aura Summers stumbles upon an old, leather-bound tome protected by magic, her curiosity demands she open it without thinking twice. A deadly virus awakens from inside it, infecting her hometown of Karnyn, and this starts Aura on a path paved by fate which leads her to learn that Earth is not the only habitable planet in the universe, and not the one she is destined to save.
A different world is on the verge of collapse, ravaged for thousands of years by evil, betrayal, and death. Nature has withered away, leaving the planet barren and the inhabitants dying of starvation. In order to save this foreign world, Aura must realize what it means to be chosen.
*  *  *
Paperback
Pages: 470
Genre(s): Epic-fantasy, romance, action
Audience: Teens and up
Price: $12 USD plus shipping
If you've read Dragons' Myth, please take a few moments to submit a review. Thank you!
READERS' REVIEWS:
★★★★★

based on

6

reviews
Overall rating:
"
This book was so amazing! It kept me reading and took me only 2 days to finish the book as it was addicting! I cant wait to read the sequel and find out what happens next! Sign me up for book 2!!!! Fantastic author and an amazing read!! I would recommend this book to anyone!
"
"
I really enjoyed reading this book! From the writing to the plot, it always kept me on my toes! I highly recommend this book to people who loves fantasy! You won't regret it!!
"
"
This book was an excellent read! I was thoroughly engrossed throughout the entire book! I am very excited for the sequel! Great job CJ!
"
"
Amazing book for fantasy readers! Very addicting. A must read!
"
Epic Fantasy indeed!
★★★★★
"
This novel contains so many fresh ideas that when you think you know what will happen next; BAM! You're wrong! A level of uniqueness that is unsurpassed by any other. Once you open it up and start reading say goodbye to the time because it's not possible to put down! You might wonder how the sequel could get any better but I believe this amazing author has only just breached the beginning of her ability.
"
"
When i was first introduced to dragons myth i saw time effort and quality... I really enjoyed reading the book it was an amazing experience. The book makes you feel, what the characters are feeling. And gives you a good idea of whats going on it the book... It really blew my mind. I thought that I would never find a book to call my favorite but i did, and it would be this one..
"