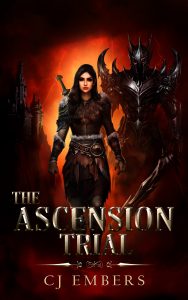 The patriarchy stole everything from me. My freedoms. My choice. My life…
Under the rule of the Tehji, a group of misogynistic rulers, a woman's life has been stripped to its core, leaving only two choices: contribute by bearing children, or be shunned.
When the time comes for Kena to choose, she opts for the most logical choice. After usurping the most important tradition of her country, she's now given a punishment worse than being shunned… but now with a powerful force on her side.
Too stubborn to accept the fate the Tehji have given her, Kena vows to do the only thing that will give her freedoms back— demolish the patriarchy and end the Tehji's reign.
---
The Ascension Trial is now available for pre-order on Kindle, for the low price of only $2 USD! The price will double once it's published, so consider taking advantage of this deal!
The publication date is set for July 1st. Originally, I was going to do August 1st, but I figured the former would still be more than enough time to finish editing. If, however, I'm not able to order physical proofs for the paperback, it is likely that I will publish sooner (because then I don't have to wait weeks for shipping).
Anyway, I am absolutely in love with this book. The cover is immaculate, and I couldn't be happier with it. The person who designed it is insanely skilled. Seeing beautiful covers of other books has always given me a sense of awe, and I have always wanted my covers to give me that same feeling. And I finally got that with this cover. The two previous times I tried professional covers, right from the get-go of seeing them, I had a disappointed pit in my stomach. This time? The concept sketch made me cry. The. Concept. Sketch. The official version is even better!
And the plot? Finally, one rivals Emergent's position as my favourite. I'm pretty certain it takes its crown, but I'm not 100% sure yet. It for sure is equal, though!
As a side note, the cover artist is super nice and is allowing me to make some minor changes, so if you want, give me your opinions on the blurb. Obviously it won't be super easy to do without having read the book, but I'm not sure if the blurb gives too much away, sounds boring, etc.
P.S. – It went up for pre-order a couple of days ago and I forgot to make a post for it here. I had a draft for it apparently, but it had only included the title. My bad! This post has been copy and pasted from my BMAC page, where I'm much more active now. You can find it HERE.